Successful Salesforce Integration
Brought to you by

CiiAction

Canada, specializing in

Salesforce & Hubspot

implementation and

digital marketing

services to businesses.
How to Implement a Successful Salesforce Integration?
Salesforce CRM is a great tool that helps many businesses today keep their customer information organized, their employees work more efficiently, and allows their business to grow more smoothly. Its out-of-the-box solutions meet the majority of customer needs, but there are times when custom solutions need to be explored.
A Salesforce integration, which is basically a connection to another system, can provide a custom solution by pulling in additional functionality to support standard (or other customs) Salesforce features.
Amongst the abundance of native features Salesforce provides, one of customers' favorites is that Salesforce integrates well with other systems. There are a plethora of software, applications, and other cloud-based solutions that fit into Salesforce like a long-lost puzzle piece.
This article will dive deeper into the benefits of Salesforce integrations, examples of Salesforce integrations, and tips on a successful Salesforce integration.
Benefits of Salesforce Integrations
Salesforce integrations can make a big difference in the functionality and user response of your organization. There are a host of benefits that can be reaped from a Salesforce integration:
Better Efficiency for End Users – An integration can improve the efficiencies of your end-users and cut down on clicks and time spent moving between multiple systems. Integrations can put everything in one place, reducing the frustration your reps experience from searching in many different places.
Unified Appearance – Whether end-users or customers access Salesforce, an integration can give your system a unified appearance, and give them the comfort they need to know they are in the right place.
More Control over Processes – When products are integrated with Salesforce, it can provide your admins more control over how certain processes are carried out and more control over data points. Automation can be implemented, as well, to cut down on the time your end users spend entering data.
Single Source of Truth – Integrations allow you to make Salesforce the Single Source of Truth, which is extremely important when there are so many moving parts. This also cuts downtime and improves accuracy when it comes to troubleshooting any issues that may arise down the road.
A Salesforce integration, which is basically a connection to the other tools you need to run your business, can provide a powerful custom solution with several benefits to teams' productivity.

.
Examples of Salesforce Integrations
When it comes to Salesforce integrations, the sky's the limit for the types of applications and programs that can be neatly tied together with the #1 CRM Platform.
One of Salesforce's cornerstones is flexibility, and they have kept true to this by providing more and more connections with systems that can take your experience to a higher level. Let's take a look at examples of Salesforce Integrations that may be useful for your org.
Communication Apps and Email – Apps like Slack, and email providers Google and Outlook can be easily tied into Salesforce for a collective experience. Your reps no longer need to worry about navigating away from Salesforce to send an email, and you can count on it being logged appropriately in Salesforce.
We offer expert Salesforce services for businesses & organizations across all industries.
Go live 3X faster: With more than 100 Salesforce implementation projects. We offer expert Salesforce integration services for businesses & organizations across all industries.
Financial Systems – Whether it's QuickBooks for accounting purposes or NetSuite to handle customer finances, financial integrations can alleviate the heavy burden of maintaining two disconnected systems, especially with such sensitive data. Implementing financial systems can provide insight into accounts that is handy for account managers, as well.
Other CRM Systems – Salesforce can also be integrated with other CRM systems and can allow for a smooth transition as you strive to make Salesforce your primary system. Microsoft Dynamics is just one example of a CRM that can be integrated to help you build a single source of truth.
Computer Telephony Integration (CTI) – The Salesforce AppExchange is filled with CTI options to connect your telephony to Salesforce. This can elevate the rep experience by limiting data entry and can save significant time by allowing them to call from within Salesforce. It also allows for managerial input and further training.
Tips on Integrating with Salesforce Successfully
Integrations can take a lot of work, and sometimes a full team of dedicated resources, but that does not mean they should be shied away from.
On the opposite end of that spectrum, it is a mistake to assume that because an app is on the AppExchange that it may take five minutes, and you're done. Consider these tips before an integration to ensure you have a successful outcome!
Plan Out your Salesforce Integration Strategy
One of the worst mistakes you can make is to see a demo of an app and how it integrates with Salesforce, and assume that what you saw only takes a few hours to implement. Even worse than that is to then implement it without further thought or planning.
Never underestimate the value of a proper integration strategy when it comes to integrating with Salesforce. Significant time should be dedicated to determine integration objectives, data integration requirements, the error handling process, and mapping out timelines, applications, resources, and requirements with what is involved. Make sure you have a team ready to go when you're looking to start this project.
Salesforce Customization Services
In the integration strategy and planning, there should be time devoted to defining how data will flow between systems. Will there be low-code solutions, like flow and process builder? Or, will custom Apex need to be developed. Furthermore, will an architect need to contribute to the overall plan?
Flows between systems should be thoroughly tested in a sandbox environment so that it is well understood. There should also be an understanding of how large amounts of data will flow, as well, and if nightly jobs should be implemented to handle the load in off-peak hours.
Use the Right Integration Tools/API
Salesforce supports both Lightning Platform REST API and SOAP API but you need to make sure the system you are integrating with can support the structure you already have in place. Other tools, such as Jitterbit or Mulesoft may be required, and it's important to understand this before you make any purchases.
It's crucial to fully understand your tools, as you may need time to ramp up additional resources or extend the timeline based on a learning curve. Ensure you have reliable knowledge before taking on such a project, and don't be afraid to consult with professionals who have experience.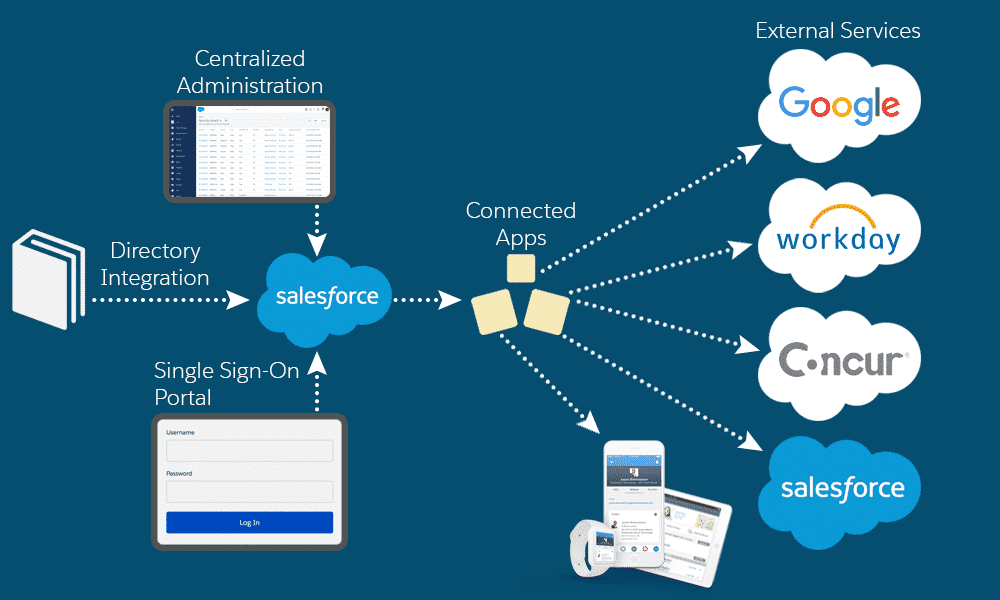 It cannot be said enough that proper testing is a non-negotiable when it comes to Salesforce integrations. There should be a testing document developed with regression testing scenarios in place to ensure that the integration does not negatively affect your current org setup. Testing should begin in the lower environments.
Once testing is done by developers or admins, User Acceptance Testing should take place to ensure it is going to be well accepted by end-users and can provide a conversation for productive feedback. After changes have been implemented in production, testing should be done again to prove all is working successfully.
Let Us Help with Your Salesforce Integration
As you can see, Salesforce integrations can take a lot of consideration, planning, and resources to ensure they are implemented successfully. This should not be left to chance with teams that have limited people or not enough time to conduct all of the steps necessary for a successful integration.
We would love to help you with your Salesforce Integration! CiiAction is a qualified, Salesforce.com Integration partner! We provide integration services that support real-time and on-demand data synchronization capabilities between Salesforce CRM and other cloud platforms, databases, and applications such as Magento, Big Commerce, Telephony systems, and many more.
Reach out to CiiAction today!